Kinetics and thermodynamics of ligand-protein binding

Molecular modeling and simulation of ligand-protein interactions
structure-based drug design
quantitative structure-kinetics relationship
tunnel engineering
Research Units in UniSysCat
| | |
| --- | --- |
| 2020 | HITS award for commitment to women in science |
| 2019 | Capes-Humboldt Research Fellowship for postdoctoral research |
| 2018 | Selected for the CellNetworks Postdoctoral Program |
| 2014 | Ph.D. fellowship from Fapesp (São Paulo Research Foundation, Brazil) |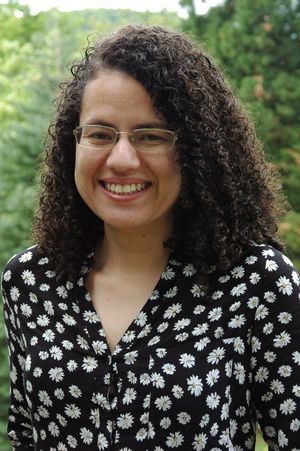 Nunes-Alves, A.; Ormersbach, F.; Wade, R.C. Prediction of drug-target binding kinetics for flexible proteins by Comparative Binding Energy analysis. J. Chem. Inf. Model. 2021, in press. https://doi.org/10.1021/acs.jcim.1c00639
Nunes-Alves, A.; Kokh, D.B.; Wade, R.C. Comprehensive characterization of ligand unbinding mechanisms and kinetics for T4 lysozyme mutants using tauRAMD. Curr. Res. Struct. Biol., 3,106-111, 2021, ArXiv: 2010.08763 [q-bio.QM].
Dey, D.; Marciano, S.; Nunes-Alves, A.; Kiss, V.; Wade, R.C.; Schreiber G. LineFRAP, a versatile method to measure diffusion rates in vitro and in vivo. J. Mol. Biol., 433: 166898, 2021
Berger, B.-T.; Amaral, M.; Kokh, D.B.; Nunes-Alves, A.; Musil, D.; Heinrich, T.; Schröder, M.; Neil, R.; Wang, J.; Navratilova, I.; Bomke, J.; Elkins, J.M.; Müller, S.; Frech, M.; Wade, R.C.; Knapp, S. Structure-kinetic relationship reveals the mechanism of selectivity of FAK inhibitors over PYK2. Cell Chem. Biol., 28: 686- 698, 2021
Salo-Ahen, O.M.H.; Alanko, I; Bhadane, R.; Bonvin, A.M.J.J. ; Honorato, R.V.; Hossain, S.; Juffer, A.H.; Kabedev, A.; Lahtela-Kakkonen, M.; Larsen, A.S.; Lescrinier, E.; Marimuthu, P.; Mirza, M.U.; Mustafa, G.; Nunes-Alves, A.; Pantsar, T.; Saadabadi, A.; Singaravelu, K.; Vanmeert, M. Molecular dynamics simulations in drug discovery and pharmaceutical development. Processes, 9: 71, 2021
Ganotra, G.K.; Nunes-Alves, A.; Wade, R.C. A protocol to use Comparative Binding Energy analysis to estimate drug-target residence time. In: F. Ballante (ed.). Protein-ligand interactions and drug design. Methods in molecular biology. Springer, ISBN 978-1-0716-1208-8, p. 171-186, 2021
Nunes-Alves, A.; Mazzolari, A.; Merz Jr., K.M. What Makes a Paper Be Highly Cited? 60 Years of the Journal of Chemical Information and Modeling. J. Chem. Inf. Model., 60: 5866-5867, 2020
Nunes-Alves, A.; Kokh, D.B.; Wade, R.C. Recent progress in molecular simulation methods for drug binding kinetics. Curr. Opin. Struct. Biol., 64: 126-133, 2020
Diestelkoetter-Bachert, P.; Beck, R.; Reckmann, I.; Hellwig, A.; Garcia-Saez, A.; Zelman-Hopf, M.; Hanke, A.; Nunes-Alves, A.; Wade, R.C.; Mayer, M.P.; Wieland, F. rf dimer interface: molecular mechanism of Arfdependent membrane scission. FEBS Lett., 594: 2240-2253, 2020.
Weidner, P.; Söhn, M.; Schroeder, T.; Helm, L.; Hauber, V.; Gutting, T.; Betge, J.; Roecken, C.; Rohrbacher, F.N.; Pattabiraman, V.R.; Bode, J.W.; Seger, R.; Saar, D.; Nunes-Alves, A.; Wade, R.C.; Ebert, M.P.A., Burgermeister, E. Myotubularin-related protein 7 activates peroxisome proliferator-activated receptor-gamma. Oncogenesis, 9: 59, 2020